The History of Studebaker
Studebaker has a long and interesting history. They incorporated in 1852 as a manufacturer of horse drawn vehicles and in 1903 they offered their first automobile, an electric. Shortly after, gasoline vehicles followed in 1904. During this time Studebaker held a partnership with E-M-F and the Garford Company. E-M-F assisted in creating parts for Studebaker while Studebaker allowed E-M-F vehicles to be sold through their dealerships. Garford assisted in building engines for Studebaker. It was not until 1912 that Studebaker began to fully manufacture their vehicles from start to finish. Over the next few decades Studebaker thrived and became known for quality and reliability.

The downfall of Studebaker began around the late 1930's when they ran into financial problems. After a failed partnership with Packard in 1954, Studebaker limped along until 1963 when production in South Bend, Indiana was ceased. Production continued for two model years in Canada until the last Studebaker rolled off the assembly line on March 16, 1966.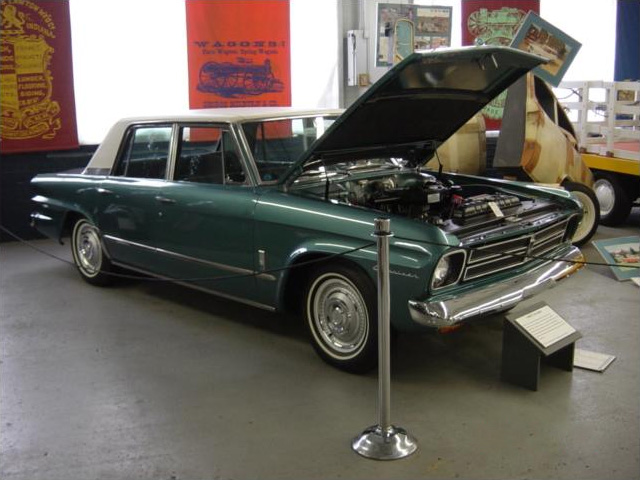 The last Studebaker manufactured.
About us
The continuation of Studebaker parts availability began with Ed Reynolds in 1976. Reynolds grew up with Studebaker as his father worked in the Studebaker Engineering Department for many years. Reynolds remembers his father selling his 1961 Cruiser in 1964 as he imagined replacement parts would become impossible to find. Although most parts continued to be available, Ed Reynolds had a 1963 Avanti and needed an original outside rearview mirror. After much searching and without success finding a new mirror, he began investigating having them made. He found a glass company to cut reflective glass to the proper dimensions. A local machine shop produced the ball post that allowed the mirror head to swivel. Castings for the mirror heads were made in Michigan and the base made in California. Reynolds drilled and machined the castings himself prior to having them chrome plated. Reynolds installed 2 of the completed mirrors and sold the extra through the Studebaker Driver's Club magazine "Turning Wheels". Soon after completing the Avanti mirror project, Reynolds began making other parts. This included 6 other styles of Studebaker mirrors, plastic parts, and rubber parts. Around the same time, Reynolds purchased part inventories which later turned into a full time buisness.

In 1986, Reynolds moved the buisness from his garage in Claremont, California to a warehouse in Long Beach, California where it remained for 13 years. In 1999, Reynolds bought the stores current location in Greenfield, Indiana where a large portion of Studebaker parts are stored. Finally, in 2009 Reynolds added 195 semi- truck loads to his inventory when he bought what remained of the Studebaker Autoparts Sales Corp., or SASCO. Those parts had been stored in the same engineering building where his father worked.

Since the creation of the first set of mirrors, more than 1,000 mirrors are sold annually and around 20,000 customer orders are received each year. It is estimated that 100,000 Studebaker vehicles are still driving on the road today and continue to be popular with collectors. Some are drawn in by their attractive styling and others by their performance. Nostalgia also plays a big role, some owners like to carry on the tradition of having Studebaker in their family just as it was when they were growing up. These are just a few reasons as to why Studebaker has stood the test of time and continues to thrive in this ever changing world.